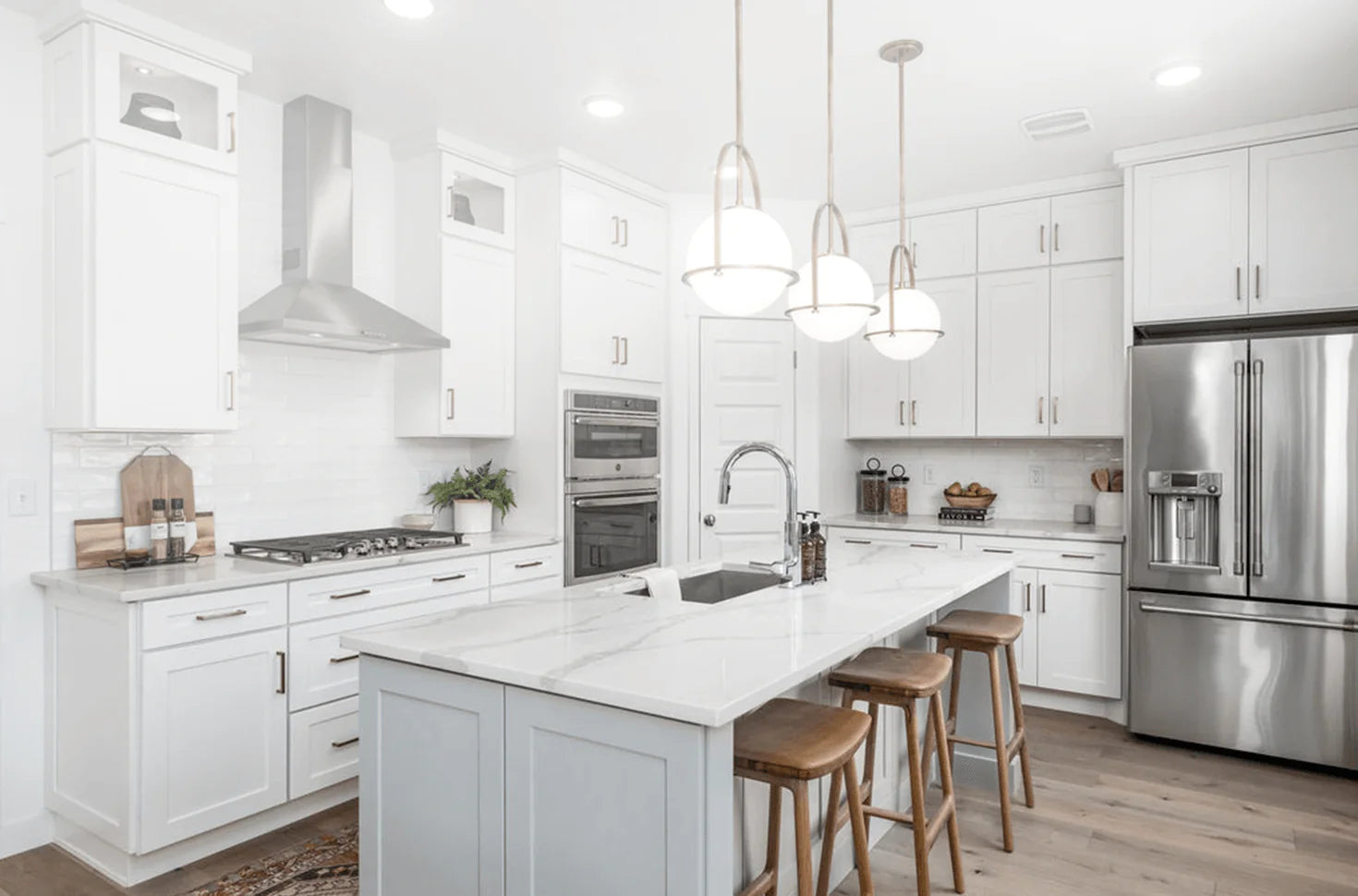 Better Home. Better Air. Better Life.
The latest in building technology means we provide you a healthy home with better air quality, but what does that mean for you?
Learn More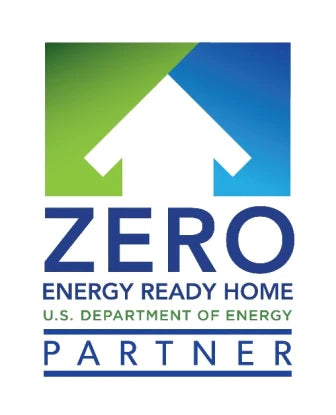 Garbett Green:
At Garbett we're constantly innovating and improving so we can build you the best home at a competitive price. We use state of the art building techniques that improve the performance of your home, saving you money and ensuring you're buying a home with the latest in building technology. Here's how we're innovating.
From solar panels to increased insulation, our new homes contain the latest in energy efficient building practices. We build homes that are twice as efficient as the typical new home. This means that you pay less on your utility bills and save up to 60% on your monthly energy bill.
Garbett is proud to be Utah's premiere Zero Energy Ready Home builder. So what is a Zero Energy Ready Home? A Zero Energy Ready Home is a high-performance home so energy efficient, all or most annual energy consumption can be offset with renewable energy. In other words, it is the Home of the Future. To learn more about ZERHs click HERE.
Download Green Guide

What does the HERS Index say about a house?
The HERS Index is a measurement of a home's energy efficiency and there are a lot of great reasons why you should have a home energy rating performed on your house. A HERS Index Score can tell you so much about a home you are thinking of buying. Heating, cooling and water heating constitute the largest cost of homeownership outside of the mortgage loan. The HERS Index Score will tell you how well the home performs energy-wise. The HERS Report will outline the energy features of the home and the expected cost of utility bills.
This home is 30% less energy efficient than the RESNET Reference Home standard, which is equivalent to home building standards prevalent in 2006. Watch out for draftier rooms and higher utility bills than in a newly constructed home.
This home meets the RESNET Reference Home standard, which is equivalent to home building standards prevalent in 2006. But there are many energy improvements you could make to cut your utility bills and increase home comfort.
A great score! This home is 45% more energy efficient compared to the home building standards prevalent in 2006 and 85% more efficient than the typical resale home!
A Net Zero Energy Home! It produces as much energy as it consumes through renewable resources, resulting in a cost-effective and environmentally friendly home.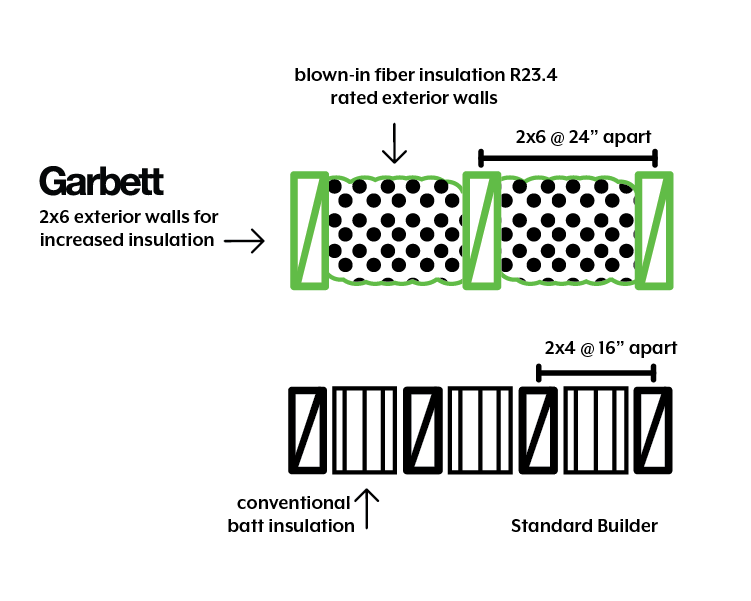 2'X6' WALLS & 24" ON CENTER FRAMING:
By using 2'x6' exterior walls instead of conventional 2'x4' walls, and spacing studs 24" on center (instead of the standard 16" apart) We're able to make significant gains in insulation. Wood is a poor insulator, so by incorporating these innovations we're able to include more insulation and give you a higher performing home.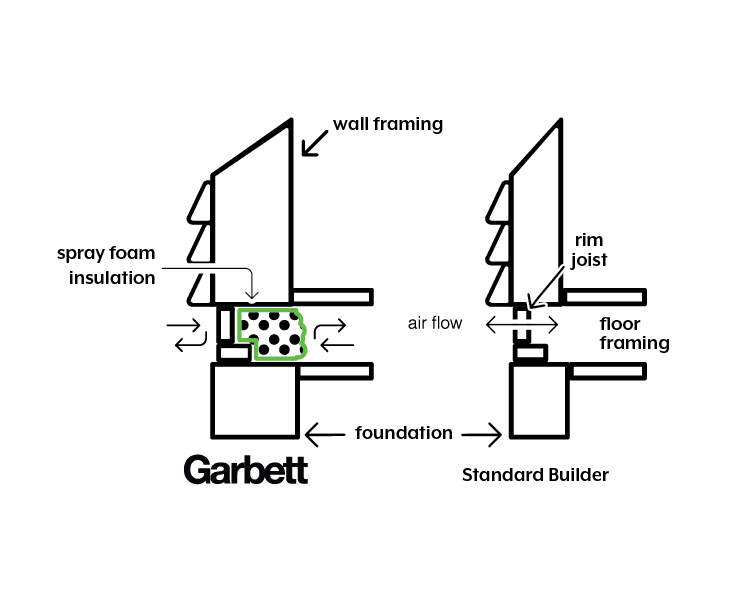 RIM JOIST SEALING:
The rim joist can be a significant source of air-leakage. Drafts can be pulled through the house into walls and holes created by plumbing pipes and electrical work. Garbett Homes uses batt insulation to air-seal and insulate the rim joist.
RAISED-HEEL ROOF TRUSS:
Raised heel roof trusses offer the most energy-efficient roof framing. Getting full insulation coverage over the entire ceiling is difficult when ceiling trusses are not designed to allow the insulation to maintain its desired thickness all the way to the wall. Conventional roof truss assembly (insulated with standard batts) does not allow adequate ceiling insulation and the air passing through the vents is restricted. The Garbett raised heel system uses baffles to allow adequate air flow above the insulation. Blow-in fiber is used to insulate the ceiling to air-seal the raised heel, achieving a true and consistent R-60 thermal rating.
LOW-E WINDOWS:
Your Garbett home comes with Low-Emittance (low-E) windows. Low-E windows allow visible light to enter our homes while restricting summer heat from entering. During the winter months, the windows keep cold air outside while reflecting the heat produced from the home back into the home, keeping your home cooler in the summer and warmer in the winter.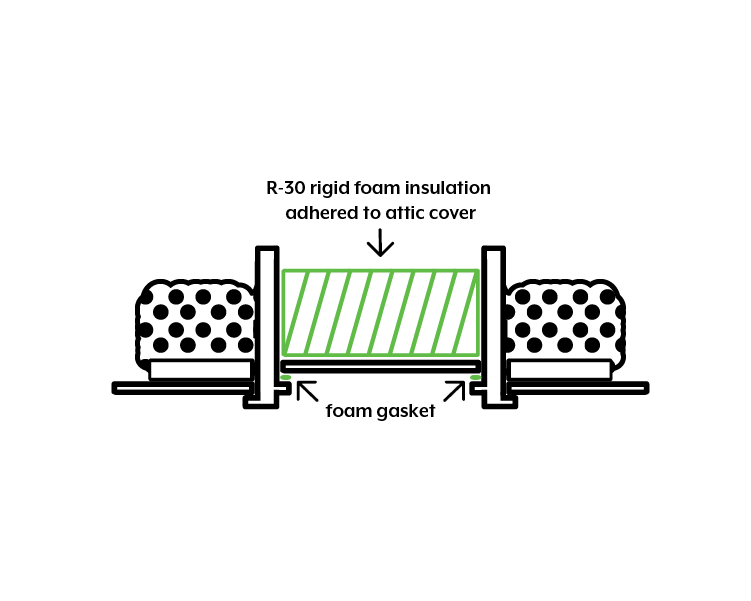 ATTIC ACCESS INSULATION:
Attic access openings in ceilings severely compromise the thermal envelope. The Garbett system adheres layers of rigid foam insulation to the attic access cover to ensure the true thermal rating is maintained throughout the ceiling. Additionally we line the seam with a foam gasket to prevent any further loss of heat.
SOLAR PHOTOVOLTAIC:
Optional solar photovoltaic panels on your Garbett home convert sunlight into electricity. The inverter then changes the current from DC into AC so it can be used by your home and the utility company. The utility company credits your account each month with any electricity you have generated in excess of your usage. That extra electricity is fed back to the grid. This process is called Net Metering. Your monthly power bill will be offset by the power you are generating through solar photovoltaic.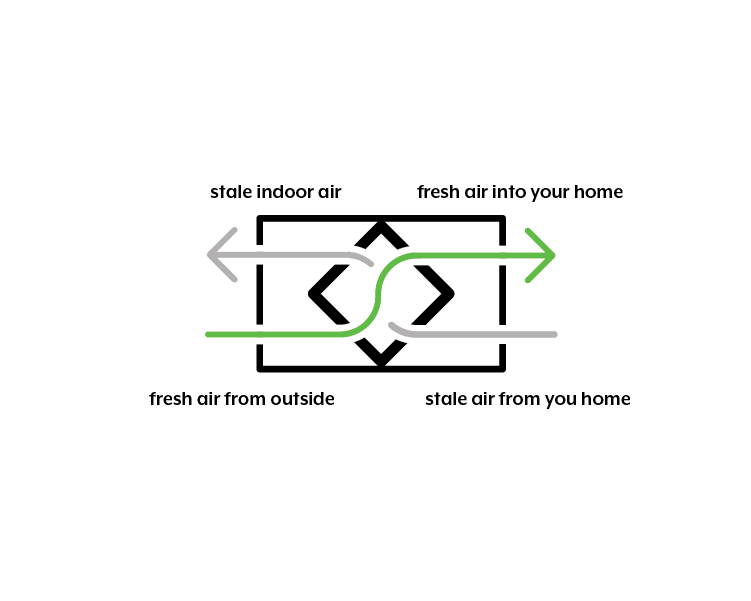 ADVANCED ERV:
Your Garbett home is equipped with an advanced air exchanger that completely replaces all the indoor air with filtered outside air, helping to keep your home and family healthy. The system uses advanced Energy Recovery Ventilation (ERV) technology to precondition the incoming outdoor air. The system precools the air in the warmer seasons and preheats the air in the cooler seasons. The benefit of using energy recovery technology is the ability to improve indoor air quality and reduce the energy used by your heating and cooling equipment. This technology has demonstrated an effective means of reducing your energy costs by reducing your home's heating and cooling loads.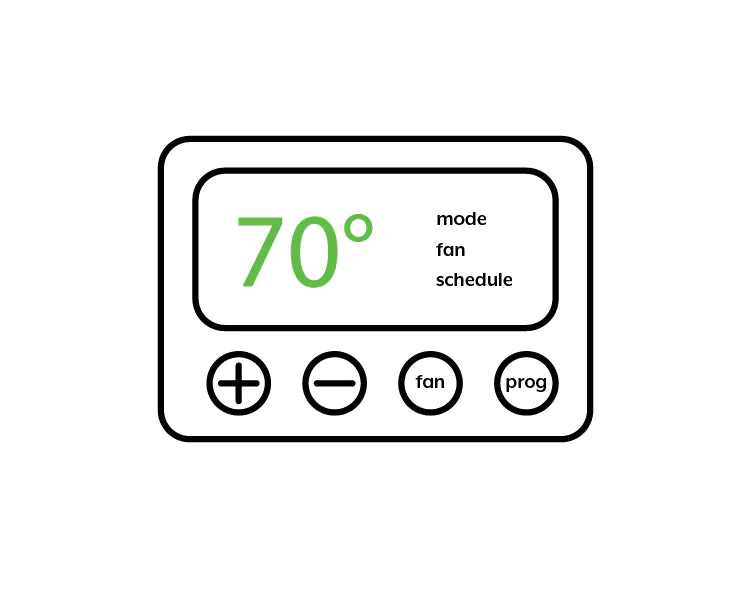 PROGRAMMABLE THERMOSTATS:
A programmable thermostat allows your to adjust the temperature of your home to be as efficient as possible, whether you're at home or away. All Garbett homes are equipped with programmable thermostats as a standard feature.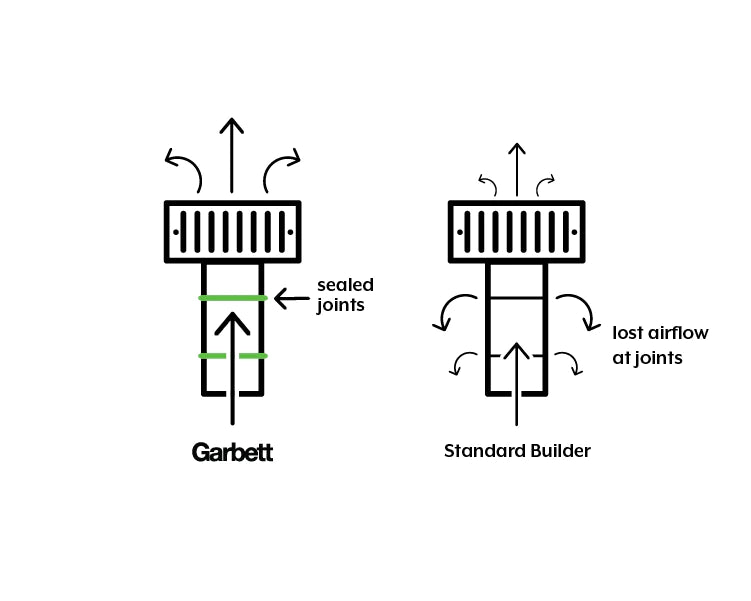 AIR DUCT SEALING:
All air ducts are sealed with an advanced sealant to provide a flexible air-tight seal. Advanced sealants can bend and flow while maintaining a durable bond.
On Demand Hot Water System:
The D'MAND Kontrols® Recirculation System works by circulating ambient (cool) temperature water that normally goes down the drain back to the hot water heater, through the cold water line. At the same time, it fills the hot water line with hot water from the water heater. When the hot water reaches the faucet, the valve closes and the pump turns off automatically – you get the convenience of hot water whenever you need it!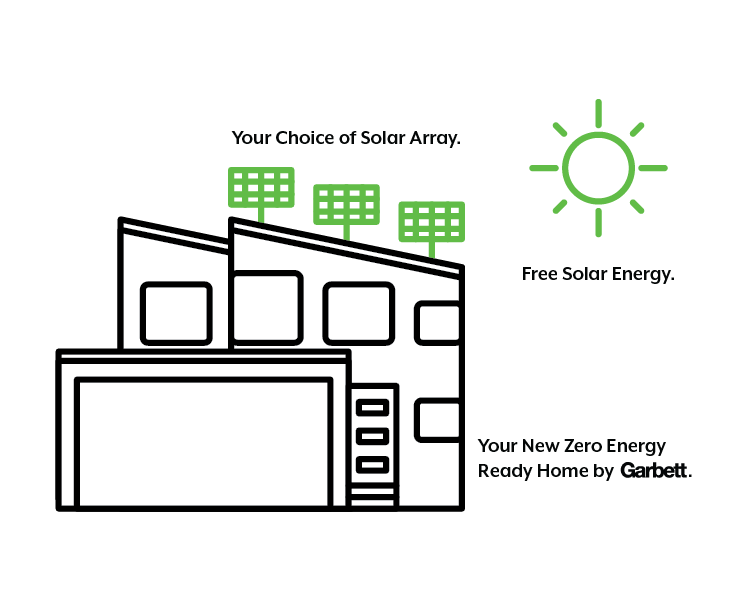 SOLAR SYSTEM PRE-WIRE:
With an average of 300 days of sunshine per year, Utah is uniquely situated to harness the energy of the sun. Every home is pre-wired to allow for easily adding optional solar photovoltaic panels on your Garbett home and convert sunlight into electricity.
Are you ready to go green?
Fill in the form below and one of our team members will contact you soon to help you on your way.